Places that'll make your heart sing, "yayy! It's snowing"
"I wonder if the snow loves the trees and fields, that it kisses them so gently? And then it covers them up snug, you know, with a quilt; and perhaps it says, go to sleep darlings, till the summer comes again."
Every time I read these immortal lines from 'Alice in the Wonderland', an irrepressible desire to run-away to snow-clad mountains is born in my heart. When the winter has already arrived, BTS brings to you a list of these 'not so mainstream' places that you should go to witness the winter wonderland in India:
JIBHI, HIMACHAL PRADESH
This off-beat place in the Himalayas is too far from industrialization and offers the perfect spot to take in lazy winter vibes. This townlet is situated in Banjar Valley and is well connected with all the roadways, most popular being the Jalori pass. The biodiversity in Jibhi is rich consisting of Pine trees and Cedar trees which are an absolute treat for eyes. When one dwells deep in this place, a waterfall is found that is like the cherry on the cake. The waterfall seems to be singing the music of nature and an optical illusion which awaits you there is a 360-degree rainbow! Now if you don't believe me then witness it yourself!
Staying in Jibhi cannot be a problem at all, Victorian age wooden cottages are easily available at a reasonable cost. These cottages will allow you to marvel at the architecture of this place. If you are searching for spirituality in this peaceful place, there is also Shringa Rishi temple.
This place is perfect for hiking, bird-watching and fishing.
HOW TO REACH JIBHI:
There are local buses from AUT to BANJAR VALLEY every hour.
From Shimla airport one can take a taxi to Jibhi which is 234.8kms.
2. MANA, UTTARAKHAND
Considered to be the last village of India, this place is closely related to Hindu mythology and being just 3kms away from Badrinath has many places of religious importance apart from all this, It is a true delight for trekking lovers. One can choose to trek from Mana to Vasundhara which is a two-hour trek that includes a beautiful waterfall in between. Another one can be a tough mountain trek from Mana to Satopanth located at the altitude of 4200mts above sea level.
When in Mana, do not forget to have tea in India's last tea shop accompanied by Maggie which is must have in all the colder regions.
HOW TO REACH MANA:
A cab journey from Mana to New Delhi will take only 5hrs.
Another way can be flying to Dehradun and then taking can to Mana, this one is shortest and cheapest.
3. KUFRI, HIMACHAL PRADESH
If you feel Shimla is so basic, run-off to this place located just 20kms from Shimla yet so not crowded. Kufri is laden with snow in winters which makes it an ideal place for skiing. Another factor that entices people towards Kufri is the Annual Winter Sports festival held by the Travel and Tourism department of Himachal Pradesh government.
For the wildlife enthusiast, there is Himalayan Nation Park on the outskirts of Kufri that offers one flora and fauna of the mighty Himalayas.
Another best part is one of the highest amusement parks in the world located at the height of 2800 meters above sea level. Combine it with the horse-riding experience on Mahasu peak, this daredevil combo is a sure shot way to give yourself some adrenaline rush!
HOW TO REACH KUFRI:
It is located on 20kms away from Shimla, so trains and buses are easily available to and fro.
Roads are also well-built so one can travel through cabs that are available outside Shimla airport.
4. KATAO, SIKKIM
Located at an altitude of 13,500ft on Donkila hill is an ideal place for people keen about adventure sports like skiing, snowboarding, snow tubing and stone grinding. It is just 144kms away from the capital Gangtok.
This place is covered with snow throughout the year yet winter season can be the perfect time to visit its full-fledged might.
An important point to remember is that this place needs a permit because of being located along the -China border, so get permission beforehand.
HOW TO REACH KATAO:
It is located 24kms away from Lachung so you can hire a cab from Lachung that takes you to Mt Katao.
5. LAMBASINGI, ANDHRA PRADESH
A south Indian destination was the last thing one expects when it comes to snow but this exception surely surprises one. This location close to Vizag is famous for its cool and chilly weather and if you get lucky, you can witness the snowfall too.
Located at the of 1000mts above sea level can be economical hill station for people in South India. One thing that sets it apart from other snow-fall places is the coffee and pepper plantations around. This place is misty through the year but can get snowy especially in winters. This can be one's beautiful bonfire destination with the loved ones or buddies!
HOW TO REACH LAMBASINGI:
It is well connected to Vizag through road network and you can hire a cab from Vizag to Lambasingi, the journey will take 3hrs.
The nearest railway station from Lambasingi is Chintapalle which is at the distance of 20kms.
6. GUREZ, JAMMU AND KASHMIR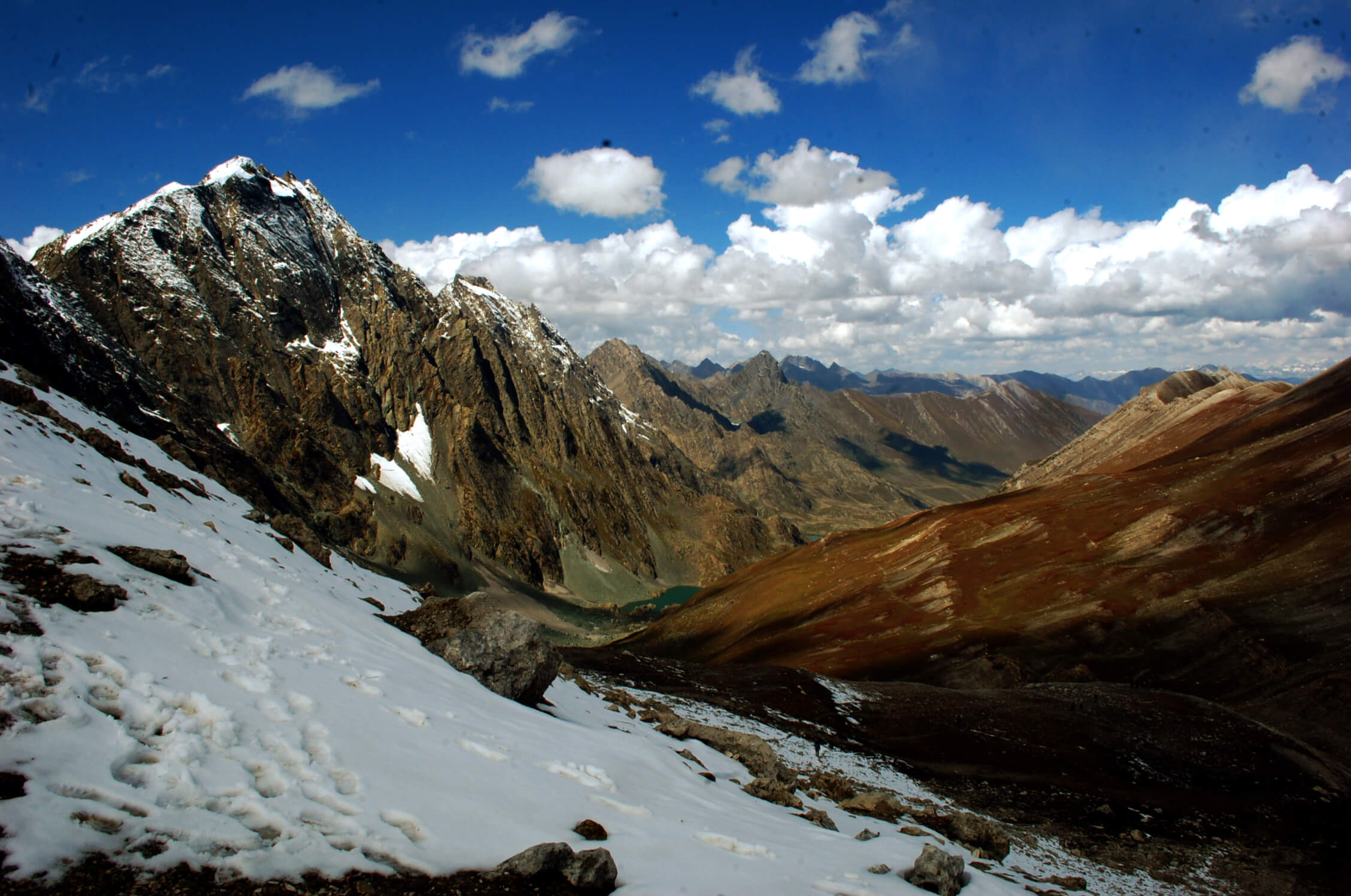 Enter this gateway to the us 'Silk Route' of South Asia to witness the winter in the most pristine form. This beautiful valley is located at a aggering height of 8,000ft above the sea level.
Most cities of this valley are located in Pakistan but a considerable part falls in India. The best part of your trip would definitely be the people in the valley, they are so hospitable that you'll be left in awe.
The major attraction of the valley is Habba Khatoon mountain that is pyramidal in shape and named after famous poet of the valley.
Visit this place to see an altogether different world. You'll be surprised by the beauty of this place! Do not forget to carry your ID while travelling to this place.
HOW TO REACH GUREZ:
The road journey from Srinagar to Gurez takes 7hrs via Sumbal-Bandipore road.
Buses are also available directly from Bandipore.